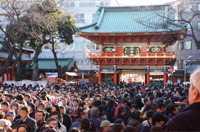 National Holidays:
- 01/01 : New Year's Day (元旦)
- Third Monday : Day of Adults (成人の日)

Major Events :
- Hatsumode (初詣)

Weather: Mostly Sunny but sometimes snow (rains 54mm per month)
Ave. temperature and humidity of Tokyo: 4.7 degrees C, 53%

Flowers:
- Robai (Winter sweets)
- Botan
Summary:
In the beginning of January, almost all Japanese do Hatsumode, the new year's worship, from the last new year eve, to around January 5. Most of the shop and stores, including the public offices close until January 3. At Hatsumode, because all Japanese visit temple and shrines, those becomes one of the biggest events for them. There are many festivals hold in this time, and you can enjoy many activities. "Mochi-tsuki" is one of interesting the activities for New Year's Day. People make Japanese rice-cake with the traditional way of making. You can eat fresh Mochi, and also "Amazake, " the sweet non-alcoholic Sake. People visit shrine or temples to get "Omamori" of the year, and pray their success and peace for the year.

For "Seijin no Hi," Day of Adults, many people who are age of 20 (Japanese become adult at the age of 20) join the ceremony. Especially, girls wears "Hurisode" which is the one of "Kimono."