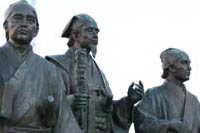 Ibaraki Prefecture (茨城県 Ibaraki-ken) is a prefecture of Japan located in the Kanto region on Honshu island. The capital is Mito. The northernmost part of the prefecture is mountainous, but most of the prefecture is a flat plain with many lakes.
The Hitachi company was founded in the Ibaraki city of the same name.

Famous foods of Ibaraki include natto of Mito, watermelons produced in Kyowa, and chestnuts grown in the Nishiibaraki region.
Ibaraki is famous for the martial art of Aikido which was founded by Ueshiba Morihei. The Aiki Shrine and dojo he created remain there to this day.
There are castle ruins in many cities, including Mito, Kasama, and Yuki.
Kasama is also famous for its Shinto and art culture.
Famous tourist attractions are Kairakuen Park, Mount Tsukuba, and Kashima Shrine

Ibaraki is often mispronounced IbaraGi; which provokes people from Ibaraki. Don't mispronounce.
Tsuchiura is the southern part of Ibaraki Prefecture. There are many lakes including Lake Kasumigaura which is second biggest lake in Japan. The waterfront line is the longest in Japan. Therefore, Tsuchiura area is well developed for a fishing industry and agricultural industry because of the great water of Lake Kasumigaura. For the entertainment, there many marine sports are available. The transportation in this area is not well. Many buses and trains finish very early time. You need to be careful about those schedule. However, car access is very convenience.