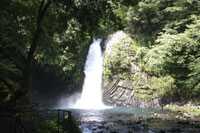 The Izu Peninsula (伊豆半島) is a peninsula to the west of Tokyo on the Japanese island of Honshu.
Izu is a popular recreational area for people in the Tokyo region, the Izu peninsula is above all known for its onsen hot springs, including Atami, Shuzenji, and Mishima. Also popular for sea bathing and surfing, motorcycle touring.
Izu being one of Japan's biggest producers of wasabi, the local cuisine offers many wasabi-flavored dishes. Some famous towns and popular tourist attractions include old Shuzenji with its temples, onsens, waterfalls, ryokans, and Shimoda, the landing site of Commodore Perry's infamous fleet of black ships.
South Fuji area is located the southern area of Mt. Fuji(富士山) in Shizuoka(静岡) prefecture. Mt. Fuji is on the boarder of Yamanashi Pre. and Shizuoka Pre. Not like North Fuji area, this area faces Suruga Bay. So, fishing industry is one of major industries in this district. Also, there are many green tea farms. Green tea of this area is considered as a one of the best Japanese green tea. This area is the only spot where you will have great view of Mt. Fuji and sea at the same time.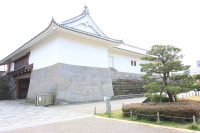 Shizuoka is located between Tokyo and Nagoya face to Pacific Ocean. Shizuoka is very famous for Green tea, wasabi and fish. Because there are many rivers in Shizuoka, they have not only great fish from the ocean, but also they capture fish from the rivers.

Shimizu Port boasts the largest haul of tuna in all Japan. Kanbara Harbour enjoys a prosperous haul of sakura ebi. Mochimune Harbour enjoys a prosperous haul of shirasu sardines.

A grated yam soup. Chojiya, a tororo restaurant founded in 1598 in Mariko-juku area of Shizuoka, west of the Abe River, was made famous by Hiroshige when he depicted it in his series of ukiyoe prints of the 53 stops along the Tōkaidō, entitled The Fifty-three Stations of the Tōkaidō.
Hamamatsu is located on the west side of Shizuoka
Prefecture. It was the city of Tokugawa Ieyasu during the
Sengoku period and one of the hotel town of Tokaido during
the Edo Period. There are many ruins, especially Arai
Sekisho, of Tokaido. Lake Hamana is one of the biggest
feature of Hamamatsu. It is very famous for Unagi,
Japanese Eel.