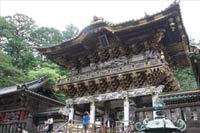 Nikko (日光) is a city located in the mountains of Tochigi Prefecture, Japan. It is a popular destination for Japanese and international tourists, housing the mausoleum of shogun Tokugawa Ieyasu (Nikko Toshogu) and that of his grandson Iemitsu (Iemitsu-byo Taiyu-in), as well as the Futarasan Shrine, which dates to the year 767. There are also many famous hot springs (onsen) in the area. Nikko is located at very high level from the sea level. The mountains west of the main city are part of Nikko National Park and contain some of the country's most spectacular waterfalls and scenic trails.

There is Kegon Waterfall (華厳の滝, kegonnotaki) which is the most famous Japanese waterfall. Besides, there are many waterfalls in Nikko.
Utsunomiya(宇都宮) is the biggest city in Northern Kanto where a half million people live. Historically, it was developed the important city to access Tohoku region (Northern Japan) since Heian Period. Utsunomiya is accessed by the Tohoku Expressway or Utsunomiya Station of the Tohoku Shinkansen line. Utsunomiya is approximately 100 km north of Tokyo. The historic town of Nikko is approximately 35 km west of Utsunomiya. Utsunomiya is accessible from Tokyo by Shinkansen in approximately 60 minutes.

The battle of Utsunomiya Castle took place between May 10-14, 1868, during the Boshin war. The city itself was founded on April 1, 1896. The city added the the towns of Kamikawachi and Kawachi, both from Kawachi District, on March 31, 2007.It is also home to a Canon optical manufacturing plant, a Japan Tobacco plant, Honda design centers, and various other industrial concerns in the Kiyohara Industrial Park.

Nasu-Shiobara is one of the most popular resort spots near Tokyo. It is located north Tochigi Prefecture. Most of the Nasu-Shiobara are mountains and highland with lots of Onsen towns. Especially, Nasu Highland has great Onsen with beautiful nature and in winter it becomes one of the major sky spots in Kanto. It is located on the gate of Tohoku region, therefore, both Kanto and Tohoku people visit here for their vacation.

Ashikaga is located south west of Tochigi Prefecture. North of this area is widely covered by mountains, and Watarase River runs the south part of this area. Ashikaga city is the historic spot in Tochigi Prefecture. It is the birth place of Ashikaga clan. This area has lots of golf courses.