Toyama is located in the center of Toyama Prefecture. It is also the capital of Toyama. Because it faces Toyama Bay, Toyama has great seafoods. Also, Toyama and Takaoka was the huge Castle town during the Edo period, therefore, there are many historical spots and Edo Style towns are in Toyama area. Toyama area is one of Heavy Snow nation in Japan. It gets heavy snow in winter.

Nanto (南砺) area is the southern-west area of Toyama prefecture. This area is considered as the heavy snowfalls area in Japan. The main feature of this area is its snow and Gassyo style Houses. Gokayama which is located southern Nanto remains many of Gassyo style houses. Gassyo Houses in Gokayama exist since Edo period and some of them are over 400 years old. WIth those important hitorical properties, Gokayama is registered the UNESCO World Heritage Site in 1995.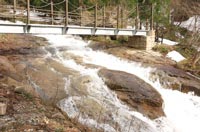 Tateyama area is located eastern Toyama Prefecture. It is famous for a beautiful mountains. There are many beautiful waterfalls, including Syomyo Falls, the highest waterfalls in Japan. This area is also famous for heavy snow in winter. In winter, Tateyama-Kurobe alpine route has the huge snow wall which layered over 20m tall. You can enjoy the giant snow valley right next to you at thsi route. There are many Onsen, sky resorts, as well. Of course, in summer Tateyama offers great hiking and climbing.