Mount Fuji(富士山, Fujisan) is the highest mountain in Japan. It straddles just west of Tokyo, from where it can be seen on a clear day. Mount Fuji's exceptionally symmetrical cone is a well-known symbol of Japan and is frequently depicted in art and photographs, as well as visited by sightseers and climbers. Mount Fuji's posture is also used as the symbol for this website. The summit has been thought of sacred since ancient times and was forbidden to women until the Meiji Era. The most popular period for people to hike up Mt. Fuji is from July 1 to August 27, while huts and other facilities are operating. Buses to the fifth station start running on July 1.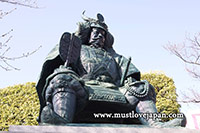 Kofu is the middle area of Yamanashi prefecture. There are many historic buildings and events in Kofu area. Moreover, There are great nature spots and mountains such as Southern Alpine, Nishizawa Valley and Shosen Valley. Many people visit here for hiking and trekking. There are many tour bus from Kofu Station.

Archaeologists have discovered evidence of human settlement in the Kōfu area dating back as far as 6000 years BCE. However, the town of Kōfu was not formally established until 1519.

Hoto is the most famous Kofu Food.
Minami Alps is located west side of Yamanashi prefecture.
The most of the area is a part of Minami Alps National Park. Minami Alps National Park is located on Akaishi Mountains. Akaishi Mountains are called as the roof of Japan because most of the peaks are over 3,000m high. Especially, Mt. Kita (3193m) is the second highest mountain in Japan.