Kusatsu is located at the northern mountain side of Gunma Prefecture. It has many Onsen spots, especially Kusatsu Onsen is one of the three Major Onsen in Japan. Because of the beautiful nature, from the spring to the summer, many people visit this area to enjoy nature. There are many waterfalls, rivers and valleys. In fall, all of the leaves change to Autumn tints. In the winter, there are many sky resorts. It is one of the popular spots for skying because of convenient distance from Tokyo.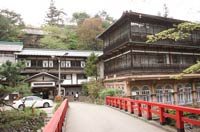 Shima Onsen (四万温泉) is one of Onsen resorts located northern Gunma prefecture. There are 43 Onsen springs in Shima. One of the unique feature of Onsen water of Shima is that you can drink this Onsen Water. Shima Onsen is surrounded by beautiful mountains with many excellent waterfalls. Onsen Town preserved the look of early Showa taste with classic Onsen Entertainments. In falls, the mountains of Shima Onsen colored with autumn leaves, and in winter, you can enjoy snow.

Maebashi and Takasaki are most populated cities in Gunma prefectures. Maebashi is current capital of Gunma, and Takasaki was very important city for the transit city since Edo period. Daruma doll and Kokeshi doll are very popular in Takasaki and Shibukawa. On the mountain side, there are many Onsen spots, especially Ikaho is very popular Onsen which even Takeda Shingen used to visit.
Akagi and Tone is the headstream of Tone River. It is one of the most beautiful nature spots in Kanto Region. There are lots of waterfalls, rivers, and mountains. Oze is vert famous spots for hiking especially summer time. For all season, Onsen is another feature in this area. In the winter, people enjoy skying with Onsen.