Kamakura was the capital of Japan during the Kamakura shogunate, from 1185 to 1333.
Kamakura is now mainly known for its temples and shrines. Kotoku-in, with the monumental outdoor bronze statue of Amida Buddha, is the most famous of these.
Kamakura is just a little too big to cover on foot, but a network of buses radiates out from the train station. Kotokuin and Hasedera can also be reached by taking the Enoden line three stops out to Hase station.
Nevertheless, for the energetic ones, there is a nice hike starting from the Tokeiji and ending near the Kotokuin. You will walk, with some climbing, through forest. The hike also passes through Zeniarai Benten Shrine, if you are curious about the money washing ceremony. The hike takes about 3 hours, if you also stop and visit the temples along the way. Even in Summer, the shade on the path manages to keep the temperature bearable (you still are in Japan in Summer, anyway!). If you are on a day-trip, doing the hike of course limits a bit the chances of visiting some of the less reachable temples.
Yokohama (横浜) is the largest incorporated city and second most populous urban area after Tokyo. Yokohama Station is like Shinjuku, one of the major terminal station which has many shopping district, hotels, restaurants, stores, and bars. Around port side of Yokohama where called Minato Mirai 21 (MM21) has great tourist spots including Chinatown. Many spot in MM21 have more stylish form of building.
Hakone is located west side of Kanagawa Prefecture. Hakone is one of the most famous and popular Onsen in Japan. It is approximately 1 hour from Tokyo and there are many Onsen Hotels and Onsen related spots. On the top of Hakone Mountain, there is huge lake called Lake Ashino, and it has great view of Mt. Fuji. Hakone is the great area with beautiful nature and wonderful Onsen.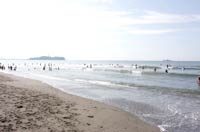 Sagami is western area of Kanagawa Prefecture. It was used to be Hojo's land. Odawara Castle is one of the popular tourist spot in this area. All south area is face on Sagami Bay and the beach is called Shonan Beach. Shonan is one of the most popular beach for people in Tokyo and Kanagawa. Northern side are Tanzawa Mountains. There are excellent hiking courses on those mountains.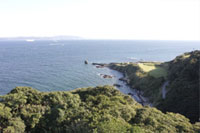 Yokosuka and Miura is located in Miura Peninsula in Kanagawa prefecture. It lies south of Yokohama and Tokyo and divides Tokyo Bay, to the east, from Sagami Bay, to the west. Cities and towns on the Miura Peninsula include Yokosuka, Miura, Hayama, Zushi, and Kamakura. In Miura Penisula, even it is located very close to Tokyo, there are many nature with great view of Tokyo and Sagami Bay. However, because the US navy base is located in Yokosuka, this are is also well developed as modern city. There are many ports where you can have great seafood. Also, Miura Penisula have many historically important sport from the Kamakura Period to End of Edo Period.
Kawasaki is one of the major cities in Kanagawa prefecture. It is the richest city in Japan. About 1.4 million people live in Kawasaki. Northern part of Kawasaki is residential area where many people live because it is very nearby Tokyo. Southern part of Kawasaki is the big urban and industrial city. There are many sports facilities where exhibit professional spots games. Also, there is the major golf course.

Around the Kawasaki Station, there are many shopping malls, restaurants, and hotels. There's one very large temple, Kawasakitaishi, and one very offbeat shrine, Wakamiyama Hachimangu Shrine, to draw in the occasional curious tourist.