Central Tokyo is an area containing Chiyoda(千代田区), Minato(港区), Bunkyo(文京区), and Chuo(中央区). This area is the downtown of Japan. The area is dedicated totally for business and politics (and imperial palace). At daytime, the area is most clouded city in the world; but, at night, it's a dessert; because little in the area was used for residence or night entertainment. The famous spots in the area are Tokyo station, Ginza, Akihabara, Kanda, Imperial palace, the Houses of Parliament.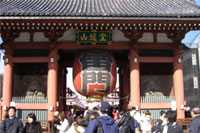 Eastern Tokyo is an area containing Taitou(台東区), Sumida(墨田区), Edogawa(江戸川区), Koto(江東区), Arakawa(荒川区), and Katsushika(葛飾区). This area is known for it's rich Japanese cultural essence. This area is also known as "Shitamachi," which is the area in the past being populated by common people. This area was not very important area in terms of military, politics, or economy, but was the most important area in terms of culture. Some of the most famous Japanese historical sights are in the area: Asakusa, Ryogoku, Ueno, and Tsukiji.
Western Tokyo is an area containing Shibuya(渋谷区), Shinjuku(新宿区), Toshima(豊島区), Setagaya(世田谷区), Nakano(中野区), and Suginami(杉並区). These area are in recent years considered as the center of Japanese culture. Western Tokyo is the biggest downtown of Japan; it's the most populated area , it's the most actively changing area, and it's the most vibrant and stylish area in Tokyo. It's the city that never sleeps in full meaning. Famous spots in this area are: Shinjuku, Shibuya, Harajuku, Aoyama, and Ikebukuro. Government office of Tokyo is also located in this area.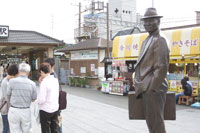 Northern Tokyo is an area containing Adachi(足立区), Kita(北区), Itabashi(板橋区), and Nerima(練馬区). This area is known as a traditional residence area for higher class. Throughout Edo period, this area was occupied by rich and powerful. Today, this area is considered to be traditinonal, historical, and mature. Those who live in the area are respected to be the highest rank in cultural sense. Some of the famous spots in this area are Toshima-en, Asukayama, Sugamo, Komagome, and Nippori.
In Southern Tokyo Area, there are many hypermodern spots which as Odaiba(お台場) and Roppongi(六本木). Check out this area to find out the latest fashion, entertainment, food and topics in Japan. There are many day spots and night spots. Like Roppongi Hills and Tokyo Midtown are one of the biggest shopping and entertainment complex in Japan. Also, Shinagawa and Shinbashi is the one of the biggest business destrict. Shinagawa, Roppongi and Odaiba are also a center of "European" style businesses and tourism, so you will see more English than Japanese on signs, and more Italian and American restaurants than Japanese ones.
Okutama is the far west side of Tokyo where has lots of nature. There are many hiking courses, and most of them are one-day-trip distance from Tokyo Metro without car. Okutama is considered as the Oasis of Tokyo. Lake Okutama is one of popular spot in Okutama. It has many tourist attractions. In winter, unlike Tokyo cities, Okutama has snow and frozen waterfalls.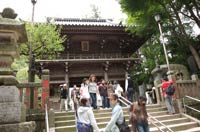 Hachioji is located west side of Tokyo city. Without Tokyo Metro, Hachioji is biggest city in Tokyo. This area was used to be important communication spot which connect, Kofu, Kawagoe, Nikko, Odawara, Kamakura. The main feature of Hachioji is Mt. Takao. Mt. Takao has 2.6 million visitors every year which make it the most visited mountain in the world.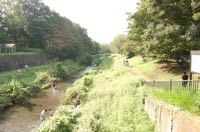 Musashino Area is west side of Tokyo Metro. This area has lots of parks which are very easy access from Tokyo Metro. Many people spend their weekend family activities, such as BBQ, fishing, and Hanami Party around this area.