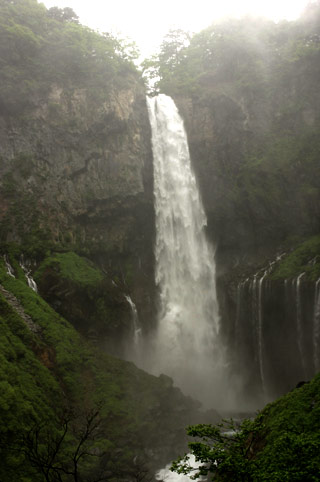 It is the world famous waterfall of Japan. There are 12 brunch waterfalls from the middle point of the fall. Combining those small falls, Kegon notaki become the great view. Not just three great waterfalls in Japan, it is also one of the great nature monument of Japan. It was found by one of Buddhist monk, and he named the fall with one of the Buddhism scripture "Kegonkyo."
There are two observation deck from top and bottom. You have to pay to enter the bottom deck. On the weekend, there are many people visit. You might have hard time to find parking.
Kegon Falls are located at Lake Chūzenji (source of the Oshiri River) in Nikkō National Park in the city of Nikkō, Tochigi Prefecture, Japan. The falls were formed when the Daiya River was rerouted by lava flows. About twelve smaller waterfalls are situated behind and to the sides of Kegon Falls, leaking through the many cracks between the mountain and the lava flows.
At 97 m high, it is one of Japan's three highest waterfalls. In the autumn, the traffic on the road from Nikko to Chūzenji can sometimes slow to a crawl as visitors come to see the fall colors. (Wikipedia)